**Updated 3/13 to include prize wish list**
(nothing else is new, so all my regular readers can delete this post without guilt!!)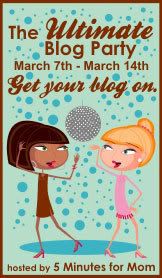 I love celebrations! I love planning for them, executing them, and seeing the enjoyment others get from them. Of course, most days, it has been birthday celebrations for my kids over the last 6 years!
Things have been a little crazy around here and I totally, totally let my
own
celebration pass by without any hoopla!
Can you believe it has been
one year
since I started this whole crazy thing?!!
I am sure my husband is rolling his eyes and seconding the "crazy" part right now!
It has been an incredible experience and I am so glad I did it! I am still finding my way through all the technical stuff, figuring out how to voice my thoughts, investigating the income possibilities for a little play money, and discovering the vast blog world that is out there! My written expressions have ranged from silly to insightful. You have always indulged me as I share pictures of my kids and my experiences!
Without a doubt, the best blessing to come of all this is
YOU
.
You have welcomed me, encouraged me, laughed with me, and prayed for me. It still strikes me as odd some days that I feel like quite a few of you are my friends. And while I do have a great circle of live and in-person friends, my new virtual friends are very very special to me! Without a doubt! So much so, that I am even pondering a bloggy meet-in-greet in my area at some point. Anybody interested?!!
Now my husband is really rolling his eyes!
Like back in his head because he has choked and passed out!
For fun,
here
is my post I did for
The Ultimate Blog Party 2007
!
Thanks for stopping by!
Enjoy your stay!
**Due to technical difficulties at the party site (which are now corrected!), I wanted to edit my post so I can send you straight to the source when you get ready to party! Go
here
to join the fun!!
Stacey
p.s. I donated a door prize to the party so you will have to go there to try and win it!
My personal favorites? Glad you asked!
#137
Go BPA Free Sippy Cup Sampler
#84
Mod Mum Baby Sling
#37
Moby Wrap
#18
Wrap-n-Mat (2) and Chico Shopping Bag
#7
Bead Photo Tile Dangle Necklace
#78
50 Custom Photo Cards
I would also be completely thrilled if I won
#48 Story Package
#87 Orange and Blue Beaded Necklace
#22 Nursing Cover
#19 Klean Kanteen Sippy Cup
#96 Good Pail
#14 12x12 Custom Wall Canvas